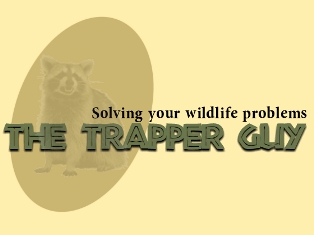 727-710-0373
Serving the entire Tampa Bay area !
Click here for a free estimate! *
Pocket Gophers
Southeastern Pocket Gophers are located in the Tampa Bay area northward throughout the state.
These critters live underground and can usually be detected by the mounds of sandy soil that will dot your lawn.
Pocket Gophers, like other wildlife, are benificial and important to their eco-system but can be destructive to your landscape or golf course.
Let The Trapper Guy refer you to a licensed professional to help you with your Gopher problems.
Call today!
727-710-0373
Excerpt from article on Gophers:
Southeastern Pocket Gopher
William H. Kern, Jr.
Description
The southeastern pocket gopher, Geomys pinetis , is also known as the sandy-mounder or salamander. The pocket gopher is a rodent that is well adapted for its life underground. It has very small eyes and ears and large claws on its powerful front legs. The term pocket refers to the fur-lined cheek pouches that the gopher uses to carry food (Figure 1 ). The old wives' tale that it carries soil from the burrow in these pouches is false. The lips close behind the protruding chisel-like front teeth so the gopher can chew through dense soil or large roots without getting dirt in its mouth. The southeastern pocket gopher is tan to gray-brown in color. The feet and naked tail are light colored. The average total length (tip of nose to tip of tail) for an adult gopher is about 10 inches (25 cm), with a range of 9-12 inches (23-30 cm). Its tail averages about 3 inches (7.6 cm) in length.

Habitat and Food
The southeastern pocket gopher requires deep, well-drained sandy soils. It is most abundant in longleaf pine/turkey oak sandhill habitats, but it is also found in coastal strand, sand pine scrub, and upland hammock habitats. Gophers dig extensive tunnel systems and are rarely seen on the surface. The average tunnel length is 145 feet (44 m) and at least one tunnel was followed for 525 feet (159 m). The soil gophers remove while digging their tunnels is pushed to the surface to form the characteristic rows of sand mounds. Mound building seems to be more intense during the cooler months, especially spring and fall, and slower in the summer. In the spring, pocket gophers push up 1-3 mounds per day. Based on mound construction, gophers seem to be more active at night and around dusk and dawn, but they may be active at any time of day.
The primary tunnels run parallel to the surface and most are 2 inches (5 cm) to 2 feet (0.6 m) below the surface, but some tunnels may extend downward as far as 5 feet (1.5 m). Nests and food storage chambers are located in these deeper tunnels. As the gopher digs, it pushes the excavated dirt behind itself. It then turns around in the tunnel and pushes the dirt up a tunnel that ends at the surface, producing a mound. As the main tunnel progresses beyond the first tunnel, a new lateral tunnel is dug to the surface. Then the first lateral tunnel is backfilled to block it off from the surface. This behavior is a defense against the gopher's main predator, the Florida pine snake, which goes down the tunnel after its prey. The pine snake kills the gopher by pressing it against the wall of the tunnel, rather than wrapping it in constricting coils.
The pocket gopher feeds on the tap roots, crown roots, fleshy rhizomes, bulbs, and tubers of a wide variety of plants in its natural environment. Bahiagrass tubers appear to be a preferred food based on the contents of food caches. Gophers also have an unfortunate fondness for sweet potatoes, peanuts, sugarcane, alfalfa, and peas.

Reproduction
Gophers reach sexual maturity at about 6 months of age. The southeastern pocket gopher usually has one or two litters per year. The average number of young per litter is 1.5 (one to three young). Although gophers breed year round, breeding is most common in March and in July or August. They build nests of shredded grass in the deepest part of the tunnel system, 2-5 feet (0.6-1.5 m) below the surface. The low reproductive rate can sustain gopher populations because the gopher has few natural predators, owing to its underground lifestyle.

Damage and Control
The most common problem associated with gophers is the numerous large, sandy mounds they deposit on the surface. Occasionally, gophers will feed on the roots or tubers of garden, ornamental, or crop plants. In natural settings, gopher tunneling activities are beneficial. The soil gophers bring to the surface contains nutrients leached from surface soils. This natural fertilizer helps to maintain the sandhill ecosystem. The mounds of loose soil provide needed germination sites for some native plant seeds. Many amphibians and reptiles use gopher mounds as homes, including Florida's unique mole skinks. The gopher tunnels themselves serve as habitat for many unique invertebrates that are found nowhere else.
When pocket gophers are damaging lawns, golf courses, or gardens, it is legal for the property owners, tenants, or employees to trap them without a permit. Because the southeastern pocket gopher is a native nongame wildlife species, it is illegal to use any type of poison (bait or fumigant) to kill it without a Poison Permit issued by the Florida Game & Fresh Water Fish Commission (GFC). If a lawn service or pest control technician is hired to remove a pocket gopher, that technician must possess a Nuisance Wildlife Permit issued by the GFC.
Trapping is the most effective method for controlling the few gophers that invade yards, gardens, golf courses, or crop fields. Gophers should be maintained in natural areas and can usually be tolerated along rights-of-way for roads and power lines.
Selected References
Brown, L.N. and G. C. Hickman. 1979. Tunnel system structure of the southeastern pocket gopher. Florida Sci. 36:97-103.
Case, Ronald M. 1983. Pocket Gophers. Prevention and control of wildlife damage. Coop. Exten. Serv., Univ. Nebraska, Lincoln. Pp. B.13-B.26.
Daar, Sheila, and William Olkowski. 1985. Tips on gopher control. Common Sense Pest Control 1(3):18-19.
Wing, E. S. 1960. Reproduction in the pocket gopher in north-central Florida. J. Mammal. 41:35-43.
Footnotes
1. This document is WEC-67, one of a series of the Wildlife Ecology and Conservation department], Florida Cooperative Extension Service, Institute of Food and Agricultural Sciences, University of Florida. First published as FRC-35, "Controlling Pocket Gophers," May, 1991. Published as SS-WIS-67, May, 1994. Reviewed: September, 1998. Please visit the EDIS Web site at http://edis.ifas.ufl.edu/
2. William H. Kern, Jr., Ph.D., assistant extension scientist, Largo, FL, 33774, Cooperative Extension Service, Institute of Food and Agricultural Sciences, University of Florida, Gainesville, 32611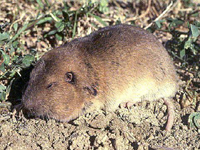 Southeastern Pocket Gopher
Florida native FWC registered and insured nuisance wildlife trapper. Let me help you with your gopher problems.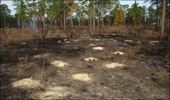 Telltale signs of Pocket Gophers.