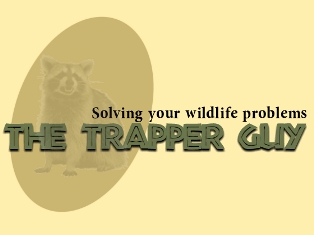 727-710-0373
Serving the entire Tampa Bay area !
Click here for a free estimate! *
Dead Animal Removal
Does your home or business have a horrible odor? There could be a dead animal in your attic, wall or crawlspace. Often it is a dead rat, raccoon or a opossum that has eaten rat posion.
The Trapper Guy will come out and locate the source of the smell with his trained nose and state of the art equipment.
The critter will be removed and the odor will be treated.
If holes have to be cut in the walls then the damage will be repaired.
Dead animal smells usually get worse before they get better. Better call a professional.
Call today!
727-710-0373
How does a dead animal smell?
A dead animal smells bad.
There are two main reasons for this....
The bacteria that have lived within the animals stomach - quite harmlessly - during its life lose their source of sustenance once the animal stops feeding and so promptly turn into cannibals.
The guts of the animal are eaten away and excrement leaks out. When a body dies all the muscles relax and so the muscles that control the bladder release any fluid that they have been retaining.
Treatment
The most common case of dead animal odor is a rodent such as a mouse or a rat dead by a poison bait. If the death occurs and it takes place in the attic - wall void or inaccessible crawl space - the animal will smell and in most cases the scent will last for several weeks. In some cases, larger animals like squirrels, opossums and/or raccoons may smell for several months.

Dead animals can cause all sorts of problems:


Dead animals can lead to infestations of flies, beetles, and other insects.
Displaced parasites look for new homes when their hosts die and spread serious diseases.
Dead animals endangering pets or stealing food.
Dead animal odors are putrid and can last for many months.
To avoid odor and these problems from dead animal carcasses, we take the proper steps.


Remove the dead animal carcass, if possible.
Use odor neutralizer and fog/spray the affected area.
If we do not have access to remove the animal carcass due to an obstructing object or a wall, it may be necessary to fog/spray multiple times since the animal carcass may produce odors continuously.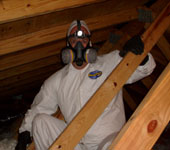 Florida native FWC registered nuisance wildlife trapper. Let me help you with your dead animal smell.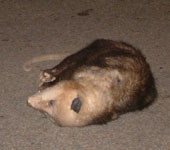 This one is not dead but just "playing possum".
My prices are reasonable and services are professional. I am fully insured.