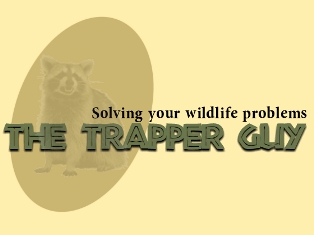 727-710-0373
Serving the entire Tampa Bay area !
How to get rid of Raccoons
Using a professional is the best way to get rid of raccoons.Raccoons are found all over the Tampa Bay area in ever-increasing numbers. Urbanization often helps their population because food often becomes more available in these conditions. Therefore, it is not at all uncommon to encounter raccoons near your home or worse, in it.
A raccoon in your attic can cause extensive damage. While nesting they bring food products that will collect and rot. They will also defecate and urinate.
The greatest problem with raccoons is disease.
The following diseases pose the
most serious health risk for humans and their pets.

Rabies
Raccoons are classified as a rabies vector species, along with foxes, skunks,
and bats.
Roundworm
Raccoon roundworm is a type of worm that infects raccoons and can cause serious disease in humans that accidentally come into contact with it. The adult worms live in the intestines of raccoons and deposit eggs which can contaminate soil around raccoon latrines. Humans, particularly children, can become infected by coming into contact with roundworm eggs from contaminated soil. The disease has little effect on raccoons but can cause severe, permanent brain damage in young children. For this reason, it is important to avoid contact with raccoons or areas they frequent. It is especially important to prevent raccoons from taking up residence in your yard, garage or attic.
Leptospirosis
Raccoons are capable of carrying and transmitting this disease.
Distemper
This disease is similar to rabies and can also affect some pets. However,
it does not pose a threat to humans. Contact your veterinarian to discuss
any concerns, and make sure that your pets are vaccinated annually
against this and other diseases.
Having a raccoon removed from your attic or home is not a job for an amateur. Give us a call and we will send out a professional to get rid of your raccoon.
Call today!
727-710-0373
Excerpt from a great publication:
Raccoons
William H. Kern, Jr.
Solving Raccoon Problems Raccoons are one of our most successful urban animals and are therefore frequently observed in our yards and around our homes. This should not, by itself, be cause for alarm. Under most conditions, raccoons are harmless, interesting neighbors. Treated as part of the natural community, you will occasionally get a glimpse of one going about its business, and these can be fascinating times. Problems with raccoons often arise because we find it so difficult not to "do something" for them. Feeding raccoons is one such case. Because they eat just about everything imaginable, raccoons are almost never in danger of starving--especially in Florida's mild climate. Even in urban landscapes, raccoons find plenty to eat. By putting food out for them, we condition them to lose their "respect" for people--a trait that aids greatly in their ability to survive. It also causes local populations to become denser than the habitat can adequately support. At these times, raccoons begin to look more closely at your home to provide them shelter and they are more likely to become ill and to transmit diseases.Types of Problems Raccoon problems are varied, but most can be divided into 2 major categories. Both of these are discussed in detail in the following sections.Feeding Raccoons often become a nuisance by their feeding habits. When this occurs, your best strategy is to prevent their access to this food wherever possible. If raccoons are raiding your pet's food dish, feed your pet during daylight hours and remove the uneaten food before dusk. If raccoons are raiding your garbage can, then make this can inaccessible. Get a raccoon-proof garbage can or weight the lid down so that they can't open it. Keep your garbage cans in the garage or build a bin with a latchable lid to store them in.Eating Crops Many other raccoon feeding problems, however, are not as easily solved and are not directly tied to feeding them. Everyone who has ever tried to grow sweet corn and other vegetables with a raccoon in the area has likely lost a good share of their potential harvest. Raccoons can be quite frustrating to fruit and vegetable growers. Solving these problems can be equally frustrating. Be aware that repellents of any kind (and, yes, that includes mothballs) and scare devices will not be successful. No raccoon in the world will pass up the opportunity to dine on something ripe and delicious simply because there is a strange odor or object nearby. One method that will work is to prevent access and, where possible, the best of these is an electric fence. A single strand, solar-powered electric fence with the wire 8 inches above the ground can do wonders to keep raccoons out while not harming them in the least. The only other method is to remove the animal from your yard by means of a live trap.Living in the attic (or elsewhere in the house) Perhaps the greatest problem with raccoons occurs when they set up housekeeping inside your residence. Raccoons often come into an attic or crawl space when an entry point to the outside is not repaired, either through neglect or by failing to notice it. Torn screens or soffits, open chimneys or broken windows are common entry points. They also may take up residence beneath your mobile home or deck. Once a raccoon has moved in, it is difficult to cause it to leave. Chasing the animal out somehow and then sealing off the entry hole will, almost always, not work because the raccoon will return and force its way back in again. At this point, it will cause more damage than it did before. Physically removing the nuisance raccoon with a live trap generally is the best solution to this problem.
--------------------------------------------------------------------------------
Footnotes
1. This document is WEC-34, one of a series of the Wildlife Ecology and Conservation Department, Florida Cooperative Extension Service, Institute of Food and Agricultural Sciences, University of Florida. Original publication date June, 1991. Revised September, 2002. Reviewed September, 2002. Visit the EDIS Web Site at http://edis.ifas.ufl.edu.
2. William H. Kern, Jr., Ph.D., urban wildlife specialist, Department of Wildlife Ecology and Conservation, Pinellas County, Largo, FL. Cooperative Extension Service, Institute of Food and Agricultural Sciences, University of Florida, Gainesville, 32611.
--------------------------------------------------------------------------------
Copyright Information
This document is copyrighted by the University of Florida, Institute of Food and Agricultural Sciences (UF/IFAS) for the people of the State of Florida. UF/IFAS retains all rights under all conventions, but permits free reproduction by all agents and offices of the Cooperative Extension Service and the people of the State of Florida. Permission is granted to others to use these materials in part or in full for educational purposes, provided that full credit is given to the UF/IFAS, citing the publication, its source, and date of publication.