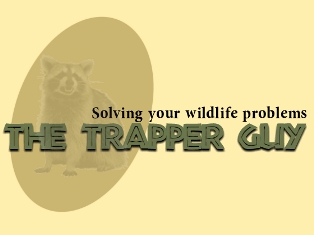 Call now to solve your nuisance wildlife problem!
727-710-0373
Serving Treasure Island, FL with humane critter removal 24 hrs a day* and 7 days a week !
Click here for a free service call! *
Many of our wild friends in Treasure Island have become 'urbanized'.
Peoples attics seem like a cozy nesting place. Trash cans and pet food are easy meals and swimming pools are convenient toilets and bathing spots.
As harmless as their intentions may be, some wildlife can be extremely destructive to your property.
The Trapper Guy will come out and humanely remove the live animal from your property and if possible, relocate it. I will fix the damage caused and make preventative measures so they won't return.
With proper wildlife control we can co-exist with our wild neighbors.
* 24 hour services are for emergencies only. Live animal in a living area where safety of the occupants is in question is considered an emergency.
Treasure Island News
Treasure Island plans to install parking pay stations at beach access park

By Sheila Mullane Estrada, Times Correspondent
In Print: Wednesday, July 1, 2009


TREASURE ISLAND — Today, the city acquired 265 feet of beach-side frontage at 10400 Gulf Blvd. worth millions of dollars, for free.
There is a cost, of course. For the first time in almost 25 years, beach visitors who want to park at the Treasure Island Beach Access Park will soon have to pay to do so.
How this unusual land transfer became possible is a tale of tight budgets, declining revenues, nearly a year of negotiations and simple audacity.
It began last summer when City Manager Reid Silverboard and recreation director Cathy Hayduke, searching for new revenue sources to balance the city's tight budget, approached Pinellas County with an idea.
The city wanted to install parking meters at the county-owned beach park and share the resulting revenue.
The county was interested. As discussions progressed, Silverboard had another idea.
"We asked if the county wanted to turn the park over to us and they agreed," Silverboard said.
The city and the county cooperated for years to create the beach park. This was just one more step.
It all began in 1985 when Pinellas County purchased a 60-foot deep lot on Gulf Boulevard for $1.75 million drawn from the final year of Parkland Acquisition Fund sales tax revenues. The fund was a precursor of today's Penny for Pinellas.
The county then leased — for $1 dollar a year — a similar-sized beachfront property just to the west owned by Treasure Island, combining the two to create the beach park.
When Silverboard asked Hayduke to propose transferring ownership of the county's portion to the city, it made sense, according to Jim Meloy, real property manager for Pinellas County.
"This is taxpayers' money doing good for taxpayers," Meloy said.
The transfer allows the county to save about $44,000 a year in maintaining the restrooms, landscaping and parking lot.
For the city, which will take over those costs, it also will mean a chance to make money by charging beach visitors to park their vehicles.
Currently, there are about 65 unmetered parking spaces.
Silverboard said the city plans to install "pay stations" instead of traditional meters, but the result will be the same.
Park visitors will soon be paying more than a dollar an hour to park at the beach. Exactly how much will be determined during city budget discussions this summer.
The parking revenue will be used to improve the park, Silverboard said, by renovating the existing restrooms, "sprucing up" the grounds, and installing a gate for vehicles to drive onto the beach.
Silverboard said the beach entrance will make it easier for emergency and maintenance vehicles to access the beach — as well as for the public attending special events such as Bands on the Sand, Relay for Life, and holiday festivities on Memorial Day, the Fourth of July and Labor Day.
Currently, vehicles entering the beach must use an access point at the beach park blocks to the north owned by the city of St. Petersburg.
"For now, though, we are just trying to get toilet paper and hand towels out there. We are starting with the basics," Hayduke said.
The city also plans to replace the large sign on Gulf Boulevard that now includes a county logo and identifies the beach access as "A Pinellas County Park."
The land transfer is unlikely to be replicated with other municipalities, according to Paul Cozzie, director of the county's culture, education and leisure department.
"This was a unique circumstance. Both of us had ownership in the property," Cozzie said.
To put the present-day value of the land transfer into some financial perspective, according to the Federal Housing Finance Agency a home purchased in Florida in 1985 for $1.75 million would be worth more than $5 million today, even given the downturn in the housing market.
Whether or not that tripling of home values can compare to the current value of 265 feet of improved beach frontage on Gulf Boulevard, one thing is certain – the city of Treasure Island's asset balance sheet is a lot bigger today.
[Last modified: Jun 30, 2009 04:18 PM]