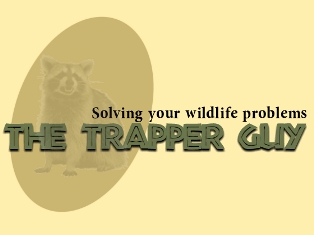 Call now to solve your nuisance wildlife problem!
727-710-0373
Serving St Pete Beach, FL with humane critter removal 24 hrs a day* and 7 days a week !
Click here for a free service call! *
Many of our wild friends in St Pete Beach have become 'urbanized'.
Peoples attics seem like a cozy nesting place. Trash cans and pet food are easy meals and swimming pools are convenient toilets and bathing spots.
As harmless as their intentions may be, some wildlife can be extremely destructive to your property.
The Trapper Guy will come out and humanely remove the live animal from your property and if possible, relocate it. I will fix the damage caused and make preventative measures so they won't return.
With proper wildlife control we can co-exist with our wild neighbors.
* 24 hour services are for emergencies only. Live animal in a living area where safety of the occupants is in question is considered an emergency.
St Pete Beach Wildlife News
Shark attacks 19-year-old Admiral Farragut grad swimming behind her home in St. Pete Beach
By Jamal Thalji and Kameel Stanley, Times Staff Writers
In Print: Thursday, July 23, 2009

ST. PETE BEACH — Handyman Wilbur Drummond was working next door when he joked to the young woman swimming in the murky waters of Boca Ciega Bay that she better watch out.
"I said, 'Girl you better get out of the water,' " he said. "What if some big fish takes a bite out?"
Minutes later, he heard screaming.
The 19-year-old woman was bitten by a shark while swimming behind her home on Wednesday afternoon, according to St. Pete Beach Fire Rescue.
Jenna James was bitten below her right knee, according to St. Pete Beach Fire Marshal Ernie Hand. She was in the water just 10 to 12 yards from her backyard dock when she was attacked by an as-yet-unidentified species of shark.
The wound was considered serious but not life-threatening, Hand said. He did not believe the victim was in danger of losing her leg. James, a graduate of Admiral Farragut Academy, was taken to Bayfront Medical Center for emergency treatment.
She was rescued from the water by her sister, according to the fire marshal. The sister pulled her injured sibling out of the water and was treating her wounds when paramedics arrived.
"Her sister, I think, falls in the line of an everyday hero," Hand said. "Her sister did a great job tending to her. She wrapped the wound in several towels which became a pressure bandage."
James was conscious while en route to the hospital, the fire marshal said. The incident took place about 3 p.m. at the family's home at 7015 Boca Ciega Drive.
Drummond, 44, said the sister called him over to help secure the family's dog before paramedics arrived. He said the flesh on James's bloody leg looked like it had been shredded.
The attack occurred less than 3 miles from the scene of the last shark bite fatality in the Tampa Bay area. On Aug. 30, 2000, a 9-foot, 400-pound bull shark killed Thadeus Kubinski, 69, who was swimming off his own backyard dock at 4321 Holland Drive. The shark crushed his rib cage and tore his liver, authorities said.
The 2000 attack took place in front of his horrified wife. Kubinski bled to death, the medical examiner said.
Sharks are attracted by splashing, and experts believe the shark that attacked Kubinski was attracted by the splash he made jumping into the water. But there are also bait fish in the water, and most shark attacks are the result of mistaken identity.
The bull shark is the largest and most dangerous species of shark that inhabits local waters, especially shallow waters. It is also among the species most likely to attack humans.
But blacktip and spinner sharks are more common and together are responsible for more shark attacks. They're also smaller.
The first recorded fatal attack in Pinellas County is believed to have taken place 87 years ago. Dorothy McClatchie, 18, was bitten in the thigh while swimming a mile off St. Petersburg. A "monster fish" twice bit her in the leg, according to news accounts, and she bled to death.
Tampa Bay waters — including Manatee County — have seen 16 shark attacks, three of which have been fatal, according to the University of Florida's International Shark Attack File.
In 1981 a fatal attack took place in Manatee County waters between Anna Maria Island and Egmont Key. Mark Meeker, 26, suffered a fatal leg wound inflicted by a tiger or hammerhead shark.
Pinellas' coastline has seen two deaths and 12 attacks, including Wednesday's encounter. It was the fourth attack in Pinellas waters since Kubinski died in 2000.
Previous attacks took place in 2004 in Big Bayou and in 2005 at Sand Key Beach. The county's last reported shark attack was in May. That's when 39-year-old Dana Joseph of Orlando got 11 stitches in his foot after he said he was bitten by a shark while wading off Clearwater Beach near Pier 60.
The latest victim, Jenna James, is a 2008 graduate of Admiral Farragut and was the St. Petersburg military school's co-valedictorian last year. According to Admiral Farragut's alumni magazine, she graduated with a 4.35 GPA, ran track and cross country, and was a member of the National Honor Society and student government. She also volunteered at Treasure Island Animal Hospital.
"She's a very nice, quiet girl," said Admiral Farragut athletic director Joe Holtzclaw, who was on vacation and hadn't heard about the incident until contacted by a reporter. "She was one of our brightest."
James planned to attend New York University, according to the magazine, and planned to major in creative writing.
Her family declined to comment to the St. Petersburg Times on Wednesday and asked Bayfront Medical Center not to release any information about her condition.
Times researcher Shirl Kennedy, staff writer Bob Putnam and staff photographer Cherie Diez contributed to this report.