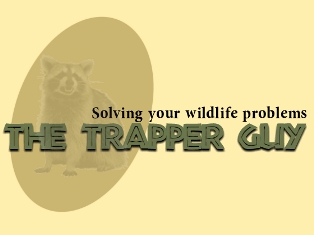 727-710-0373
Serving the entire Tampa Bay area 24/7 !
Click here for a free estimate! *
Rattlesnakes
There are two types of rattlesnakes in the Tampa Bay area to be concerned with.
The first is a Pygmy rattlesnake. It is a small rattler and although poisonous it is not fatal except for maybe small pets.
The second type is the Eastern Diamondback rattlesnake. This rattler is the most dangerous snake in North America. It recquires immediate medical attention and can be fatal.
Never try to identify these snakes on your own. Stay clear of them and call The Trapper Guy.
Please don't kill snakes! Even the poisonous ones are beneficial in that they keep down the rodent populations.
Call today!
727-710-0373
Excerpt from great article:
Recognizing Florida's Venomous Snakes
Steve A. Johnson and Martin B. Main
Florida is home to 45 species of native snakes, six of which are venomous (poisonous). The venomous species include five pit vipers (Eastern Diamond-backed Rattlesnake, Timber Rattlesnake, Pygmy Rattlesnake, Copperhead, and Cottonmouth) and the Coral Snake. Copperheads and Timber Rattlesnakes have a limited range in Florida. Copperheads only occur in a small area of Florida's Panhandle just west of Tallahassee, and Timber Rattlesnakes are only found in northern Florida as far south as Gainesville and in limited portions of the Panhandle. The other four venomous species are found throughout the state. Florida's venomous snakes occur in a variety of natural habitats, ranging from swamps to dry woods.The five species of pit vipers all share several characteristics. The pupils of their eyes are vertical (cat-like) and they have a deep facial pit between each eye and nostril. These characteristics can be difficult to see unless a snake is examined closely, so do not rely on them to differentiate venomous from non-venomous species. Florida's pit vipers have blocky, triangular-shaped heads that are distinctly broader than their necks. Relative to their length, these species are heavy-bodied snakes.Although each of the six venomous species in Florida have unique characteristics that allow them to be readily identified by experts, there are many non-venomous species with which the venomous species may be confused. Therefore it is best not to attempt to capture, harass, or harm any snake. To do so may put you at risk of being bitten by a venomous species.Eastern Diamond-backed RattlesnakeThis is a very dangerous snake and should not be approached. The Eastern Diamond-backed Rattlesnake is Florida's largest venomous snake and may exceed six feet in length. It occurs throughout Florida in a variety of dry habitats, such as pinelands, scrub, and golf courses .Eastern Diamond-backed Rattlesnakes have bold markings down their backs that include a row of large, dark diamonds with brown centers and cream-colored borders . The tail ends in a rattle that is used to make a loud buzzing sound when the snake feels threatened. Some individuals may not rattle, even when they are poised to strike. The large, thick head has a light-bordered, dark stripe running diagonally through the eye to the rear of the jaw. The scales of this species are strongly keeled (i.e., there is a ridge along the center of each scale), giving these snakes a rough appearance. The young are similar to adults in color pattern.Pygmy RattlesnakePygmy Rattlesnakes are the smallest of Florida's venomous snake species. Adults rarely exceed 20 inches in length. Pygmy Rattlesnakes range throughout the state and occur in many different habitats that include pine flatwoods, oak scrub, open pinelands, and palm hammocks.This is one of the most commonly encountered venomous snakes that occasionally is found in residential neighborhoods. Pygmy Rattlesnakes have a dark band that runs from each eye to the rear of the jaw ( Figure 11 ). Their bodies are covered with numerous dark blotches with a row of darker blotches running down the middle of the snake's back. Usually a series of reddish-brown marks can be seen between the blotches on the back. The rattle on the tip of the tail of this species is so small that it cannot be heard even when shaken vigorously by the snake. Pygmy Rattlesnakes are bold and will often hold their ground if approached. They will bob their head and strike into the air if they feel threatened.
Footnotes
1. This document is WEC 202, one portion of a 4-part package of the Department of Wildlife Ecology and Conservation entitled "Dealing with Venomous Snakes in Florida School Yards." Institute of Food and Agricultural Sciences (IFAS), University of Florida. First published: September 2005. Please visit the EDIS Web site at http://edis.ifas.ufl.edu. Accompanying documents are available by contacting Steve A. Johnson (johnsons@wec.ufl.edu) or Martin B. Main (mbma@mail.ifas.ufl.edu). A free PowerPoint presentation (with speaking notes) about venomous snakes in Florida is available upon request from Steve A. Johnson.
2. Steve A. Johnson, Assistant Professor and Extension Specialist, Department of Wildlife Ecology and Conservation, Mid-Florida Research and Education Center, University of Florida's Plant City Campus, 33563; Martin B. Main, Associate Professor and Extension Wildlife Specialist, Department of Wildlife Ecology and Conservation, Southwest Florida Research and Education Center, Institute of Food and Agricultural Sciences, University of Florida, Immokalee, FL 34142.
--------------------------------------------------------------------------------
Copyright Information
This document is copyrighted by the University of Florida, Institute of Food and Agricultural Sciences (UF/IFAS) for the people of the State of Florida. UF/IFAS retains all rights under all conventions, but permits free reproduction by all agents and offices of the Cooperative Extension Service and the people of the State of Florida. Permission is granted to others to use these materials in part or in full for educational purposes, provided that full credit is given to the UF/IFAS, citing the publication, its source, and date of publication.