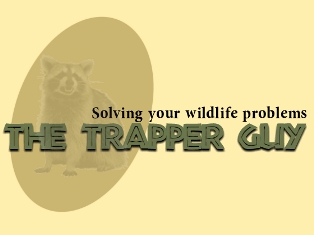 Call now to solve your nuisance wildlife problem!
727-710-0373
Serving Hyde Park, FL with humane critter removal 24 hrs a day* and 7 days a week !
Click here for a free service call! *
Hyde Park may be a bustling urban area but it has plenty of wildlife. Raccoons, opossum, squirrels and snakes to name a few.
Peoples attics seem like a cozy nesting place. Trash cans and pet food are easy meals and swimming pools are convenient toilets and bathing spots.
As harmless as their intentions may be, some wildlife can be extremely destructive to your property.
The Trapper Guy will come out and humanely remove the live animal from your property. I will fix the damage caused and make preventative measures so they won't return.
With proper wildlife control we can co-exist with our wild neighbors.
* 24 hour services are for emergencies only. Live animal in a living area where safety of the occupants is in question is considered an emergency.
Hyde Park , FL news
Hyde Park Cafe: Tampa's top bar
By Susan Thurston, Times Staff Writer
In Print: Friday, June 26, 2009
At 1 a.m., while much of the world is asleep, a crowd gathers outside the Hyde Park Cafe. Girls shimmer in their weekend best ultra-short dresses and sky-high heels. Guys pay the $10 cover charge as if by instinct.
Everyone is buffed, shined and in the mood to party.
Only it's not a Friday or a Saturday night, or even Hump Day. It's a boring Tuesday.
At the Hyde Park Cafe, Tuesdays are anything but boring. Basketball greats Michael Jordan and Scottie Pippen have hit the cafe on a Tuesday. So have baseball's Derek Jeter and Gary Sheffield. Chances are, most of Tampa's bar crowd has stopped by, too, and paid the consequences on Wednesday, with no remorse.
Tuesdays put the cafe on the map and fueled its reputation as a top spot for clubbing, music and good times among the young, beautiful and even infamous. Remember ex-American Idol contestant Jessica Sierra's glass-throwing incident in 2007?
"Every type of walk of life has been through there,'' said event planner Brooke Palmer, who has put on several parties at the cafe, including a charity gala by former Bucs player Warren Sapp. "The music is always great. It's always packed, and the girls are always hot.''
When fickle customers faded other bars into obscurity, the cafe has endured and evolved. Its longevity, innovation and overall ability to stay hip make the Hyde Park Cafe tbt*'s Ultimate Drinking Destination for 2009.
• • •
To know the Hyde Park Cafe, you have to know the owner, Tommy Ortiz. The 38-year-old was born in Tampa, one of six children raised in a strict Southern Baptist household. He graduated from Jefferson High School in 1988 but skipped college to work in bars.
If the cafe and his other businesses, which include Cheap restaurant and the Kennedy lounge, have made him rich, he doesn't show it. Ortiz wears the same outfit every day — black T-shirt, shorts and a bandanna — and drives a 1997 Toyota pickup with no A/C. He has a soft spot for shih tzus, fluffy little dogs with underbites. He owns eight.
In a rare sitdown interview, he offered his take on the cafe, in good times and bad.
It was 1995, and Ortiz had recently closed Tuts Pyramid, an underground hip-hop club on Franklin Street. He was driving along Platt Street and saw a gay strip club called Bunz had shut down. As he called the property owner to inquire, a woman posted a "for rent'' notice on a duplex behind the bar.
Ortiz took it as a sign. He rented the duplex for $500 a month and the bar for $1,500.
"I was 25 years old and had $15,000 to my name,'' he said. "I could buy a car or buy the business.''
For inspiration on the club's decor, Ortiz took a monthlong trip to Europe. One of his sisters bought him an Eurail Pass, and on a train from France to Barcelona, the name was born: Hyde Park Cafe.
Back then, Platt was aesthetically miles from Hyde Park, a high-brow South Tampa neighborhood. Needles littered the streets. Crime happened often.
The bar also wasn't a cafe. It was a small, filthy building with terrible plumbing. The current courtyard was a parking lot, and the building on the property's east side was a warehouse.
"I remember people asking, 'You're going to open a dance club in a 1,500-square-foot place?' '' Ortiz said.
• • •
The early days were tough due to competition from fancier clubs, such as Mangroves around the corner. Ortiz had eight bar stools and four employees, including one who just showed up at the door looking for work. He said he hadn't eaten for three days.
For inspiration, Ortiz looked to books. Among his favorites: Think & Grow Rich by Napoleon Hill. Every Monday, he read passages to his staff about the moneymaking strategies. The next Monday, he gave them a written quiz.
The cafe survived on a following from Tuts, where Ortiz met DJ Jask, who introduced Ortiz to house music. Jask became a hit at the cafe, where he remains a Tuesday-night staple.
Ortiz also tried gimmicks, like the time he bought $1,000 worth of tomatoes and other edible projectiles for an Animal House-style food fight. To keep employees happy, he let them drink on the job.
Still, the cafe struggled. Ortiz leaned on God to keep focused. "I didn't know it wasn't supposed to happen.''
• • •
Help — and money — arrived in the form of Chris Scott in 1999. Scott owned Club Joy in Carrollwood and had been scoping out the cafe for insight on the Tuesday night success. He was the guy who was going to build Ortiz's dream.
They closed the cafe for several months in June 2000 to create what's there today: the Cafe Courtyard, the Velociti dance room and WB's lounge, named after Chris and Tommy's dogs, Wally and Bernie. A photo of Bernie, Tommy's shih tzu who has since died, hangs on a wall.
"We came out and crushed everyone,'' Ortiz said.
With success, however, came complacency, he said. Customer service tanked, and patrons complained about rudeness. Then Blue Martini opened at International Plaza. Within three weeks, the cafe's Friday night crowd shrank from 1,500 to 300.
Ortiz needed a revolution.
He found it in the pages of Zingerman's Guide to Giving Great Service, based on a successful deli in Ann Arbor, Mich. He took the principles about treating customers like royalty and made it his mantra. Business boomed.
• • •
More recently, the cafe hasn't escaped tough economic times. Last month, it dropped Friday nights because there wasn't enough business to go around. It's open Tuesdays, Thursdays and Saturdays and available for private events on Fridays, a rarity among nightclubs.
On a good night, the cafe attracts 750 to 800 people, down from years ago but still strong. It continues to attract top house music DJs drawn to the intimacy and intensity of the Velociti room.
"The cafe is truly about the music,'' said former Amphitheater owner John Santoro, a promoter who books acts for HPC. "Their whole philosophy is centered around music. After that, everything comes into place.''
Ortiz wonders if the recession might be a good reason to rework the club, yet again. He sees a great future, but one that might not include him.
"I know I'm on borrowed time,'' he said. "I've been so blessed, I have to give back.''
After years of leading people to cocktails, he says, it might be time to lead them to God.
Hyde Park Church has a nice ring to it. Maybe with services on Tuesday.
Hyde Park Cafe
1806 W Platt St., Tampa. (813) 254-2233, thehydeparkcafe.com
[Last modified: Jun 29, 2009 03:32 PM]