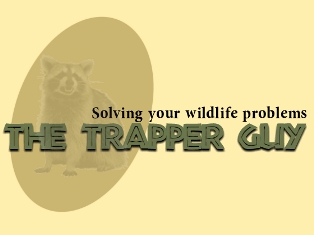 Call now to solve your nuisance wildlife problem!
727-710-0373
Serving Hillsborough county with humane critter removal 24 hrs a day* and 7 days a week !
Click here for a free service call! *
Hillsborough county is a rapidly growing area. It wasn't long ago that it was mostly forested and rural.
Many of our wild friends either get pushed out or become 'urbanized'.
Peoples attics seem like a cozy nesting place. Trash cans and pet food are easy meals and swimming pools are convenient toilets and bathing spots.
As harmless as their intentions may be, some wildlife can be extremely destructive to your property.
The Trapper Guy will come out and humanely remove the live animal from your property and if possible, relocate it. I will fix the damage caused and make preventative measures so they won't return.
With proper wildlife control we can co-exist with our wild neighbors.
* 24 hour services are for emergencies only. Live animal in a living area where safety of the occupants is in question is considered an emergency.
Hillsborough county raccoon bait vaccine
The raccoon is the number one vector for the rabies virus in the state of Florida, and your local officials want to create a rabies-free zone across Hernando, Hillsborough, Lake, Pasco, Pinellas, Polk and Sumter Counties.
Thats right! It's time for the fifth annual Oral Rabies Vaccine Drop (ORVD). More from Hillsborough County:
The U.S. Department of Agriculture - Wildlife Services, Hillsborough County Mosquito Control, and Hillsborough County Animal Services will begin the program on Valentine's Day at the Bartow Municipal Airport, located on U.S. 17, four miles northeast of Bartow.
A media briefing will take place at 10 a.m., then authorities will immediately begin distribution of some 540,000 baits using trucks, helicopters, and fixed-wing aircraft across seven 2,950 square miles in the seven counties.
In Hillsborough County, the baiting is expected to last a total of 12-13 days. The public is asked to assist the operation by keeping pets inside during the baiting process so they do not disturb the bait.
Additionally, citizens should note the following:
Baits have a strong fishy odor - do not pick up with bare hands.
Use a paper towel or plastic bag to toss stray baits into wooded area.
Wash with soap and water if bait makes contact with skin.
The baits are intended to vaccinate, not exterminate raccoons!
The vaccine has been shown to be safe in over 60 different species of animals, including dogs, cats and livestock.
The vaccine is not a substitute for veterinary (pet) vaccination.
Do not attempt to feed the bait to raccoons directly.
Each bait is stamped with the Rabies Hotline at 1-866-487-3297.
The Oral Rabies Vaccine Drop program has proven to be a successful deterrent in the spread of rabies, a virus that attacks the central nervous system in mammals. Symptoms include unusual behavior, problems with balance, circling, and seizures.
For more information, please contact Hillsborough County Animal Services at (813) 744-5660 ext. 230.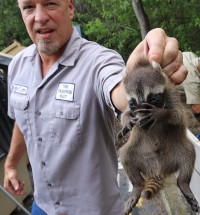 Hillsborough county registered and insured nuisance wildlife trapper. Let me help you with your animal problems.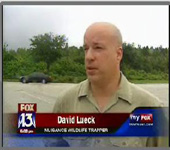 The Trapper Guy is not a pest control company. I do not use poisons or service bugs or rodents.