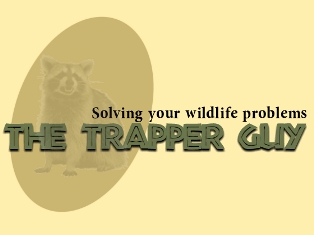 Call now to solve your nuisance wildlife problem!
727-710-0373
Serving Clearwater, FL with humane critter removal 24 hrs a day* and 7 days a week !
Click here for a free service call! *
It wasn't long ago that Clearwater was mostly forested and rural.
Many of our wild friends either get pushed out or become 'urbanized'.
Your property is an ideal habitat. Trash cans and pet food are easy meals and swimming pools are convenient toilets and bathing spots.
As harmless as their intentions may be, some wildlife can be extremely destructive to your property.
The Trapper Guy will come out and humanely remove the live animal from your property and if possible, relocate it. I will fix the damage caused and make preventative measures so they won't return.
With proper wildlife control we can co-exist with our wild neighbors.
* 24 hour services are for emergencies only. Live animal in a living area where safety of the occupants is in question is considered an emergency.
Clearwater, FL wildlife news
Copters to drop rabies vaccine
If you find a fishy smelling chunk, it might be a bait that is designed to inoculate raccoons, but works on other animals.
By THERESA BLACKWELL
Published February 23, 2005

If the sunshine holds, fishy-smelling bait filled with rabies vaccine will rain over Pinellas County again starting this week.
Pinellas County Animal Services plans to launch its annual aerial assault on rabies. The campaign began 10 years ago in response to 30 rabies cases that year. County helicopters will drop at least 20,000 rabies baits over Pinellas during a month's time. The U.S. Department of Agriculture is paying for the baits.
The main treatment area lies north of Gulf-to-Bay Boulevard and includes the Brooker Creek Preserve, the county's borders with Hillsborough and Pasco counties and Honeymoon and Caladesi islands. Officials will try to put the baits wherever there are isolated woods, said Welch Agnew, the assistant director of veterinary services for Pinellas County Animal Services.
Other areas include Weedon Island, Gandy Flats, the St. Petersburg-Clearwater International Airport, Pinellas County Utilities Solid Waste, Fort DeSoto Park and other parks south of Gulf-to-Bay.
County officials say the oral vaccine program works, but it's only part of the solution to protecting residents and their pets from rabies.
"Vaccinate your pets," Agnew said. "That's the key to the whole rabies control program."
Agnew said the vaccine protects your pets. It also provides a buffer zone between humans and wildlife with rabies.
With the aerial vaccination program, new cases of animals with the raccoon strain of rabies went down to one animal each year in 1998, 1999 and 2000. Numbers crept up slightly in subsequent years, so the county put out an increased number of baits in 2004.
Last year, raccoons confirmed as rabid mingled with humans three times in Pinellas County, twice in Palm Harbor and once in northern Clearwater. And a rabid bat crawled up the leg of a woman at an outdoor restaurant in St. Petersburg. On Feb. 10, a rabid raccoon was found near Clearwater Christian College, north of Gulf-to-Bay Boulevard.
The oral rabies vaccine is sealed in a covering that ruptures when the raccoon bites into the fish meal bait. It's not harmful to humans or pets, Agnew said, except that it may cause pets some stomach upset. And people with compromised immune systems should avoid the vaccine.
If you find one of the baits in a high-traffic area, use a plastic bag to throw it into woods, if possible.
The bait targets raccoons, the primary source of rabies in Florida, though not the only source. The bait works on some other animals, like foxes and coyotes. Bats also may carry their own strain of rabies, but they eat insects like mosquitoes, not baits.
"It's hard to put (vaccine) in a mosquito," Agnew said.
For information, call Pinellas County Animal Services at (727) 582-2600 or the Pinellas County Health Department, Environmental Health Division, at (727) 507-4336.