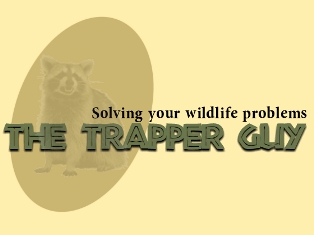 Call now to solve your nuisance wildlife problem!
727-710-0373
Serving Palm Harbor, FL with humane critter removal 24 hrs a day* and 7 days a week !
Click here for a free service call! *
It wasn't long ago that Palm Harbor was mostly forested and rural.
Many of our wild friends either get pushed out or become 'urbanized'.
Peoples attics seem like a cozy nesting place. Trash cans and pet food are easy meals and swimming pools are convenient toilets and bathing spots.
As harmless as their intentions may be, some wildlife can be extremely destructive to your property.
The Trapper Guy will come out and humanely remove the live animal from your property and if possible, relocate it. I will fix the damage caused and make preventative measures so they won't return.
With proper wildlife control we can co-exist with our wild neighbors.
* 24 hour services are for emergencies only. Live animal in a living area where safety of the occupants is in question is considered an emergency.
Tracker out foxes raccoon, finds ring
By ED QUIOCO, Times Staff Writer
© St. Petersburg Times
published February 21, 2003
--------------------------------------------------------------------------------
PALM HARBOR -- Kenneth Gollihue figured the best way to find a stolen wedding band was to think like the golf-course raccoon that made off with it.
For two days, the veteran landscape technician at Westin Innisbrook Golf Resort had searched a swamp between the fourth and fifth holes at the resort's Island course. That's where a crafty raccoon had dashed with a golfer's green tote bag containing snacks and the $1,200 ring.
"On the way home yesterday, I know it sounds silly, but I was starting to think: "What would a raccoon do?' " said Gollihue, 44, of New Port Richey.
The answer: The raccoon would run about 25 feet into the swamp, unzip the bag and gobble the airline pretzels and baggie of sliced apples. It would then leave everything else in the swamp.
And that's exactly where Gollihue found the half-submerged bag during his lunch break Thursday.
Shortly after, the ring was reunited with its owner, Helen Hutzler, an avid golfer from New York who spends winters in Palm Harbor.
"I have some bad news," Innisbrook associate golf pro Chris Slattery told her. "We were unable to recover any pretzels or apples, but we did recover a pretty ring.' "
"I was all excited," said Hutzler, 63. "Relieved."
Hutzler was putting the par-3 fourth hole Tuesday afternoon when the raccoon sneaked into her golf cart and dashed away into the nearby woods with her tote bag.
"He was so fast," Hutzler said. "I didn't even see him."
After hearing about the theft, the resort's maintenance crew took it as their mission to find Hutzler's ring. They were sure the raccoon would abandon the bag somewhere in the woods after taking out the food.
Raccoons and squirrels have been known to grab unwatched snacks and bags at Innisbrook. Usually, the bags are found within minutes, Slattery said.
But in Hutzler's case, Sunday's heavy rains had filled the swamps with knee-high water. That made searching the woods more difficult.
"When she came in and told me about it, I said, "I'll tell you what, I guarantee we will find it when the water goes down,' " Slattery said. "We were very confident we could find it. I don't know many raccoons that are into gold and diamonds, so we were okay."
Hutzler said she thought her ring was lost forever. Her husband, Fred, had given it to her as an anniversary present about four years ago.
Gollihue searched for the ring both days since it was taken. He grew up hunting and tracking wild animals in Michigan so he felt sure he could find the tote bag, Gollihue said.
For his efforts, Hutzler gave Gollihue $100. He said he plans to use the money to take his fiancee out to dinner.
Asked why he was so dogged, he said it was a chance to do the right thing.
"I recently became engaged," he said, "and I know my fiancee would be just heartbroken if she lost her ring."