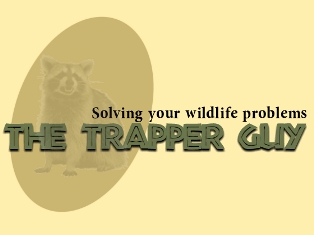 Call now to solve your nuisance wildlife problem!
727-710-0373
Serving Tierra Verde, FL with humane critter removal 24 hrs a day* and 7 days a week !
Click here for a free service call! *
It wasn't long ago that Tierra Verde was mostly forested.
Many of our wild friends either get pushed out or become 'urbanized'.
Peoples attics seem like a cozy nesting place. Trash cans and pet food are easy meals and swimming pools are convenient toilets and bathing spots.
As harmless as their intentions may be, some wildlife can be extremely destructive to your property.
The Trapper Guy will come out and humanely remove the live animal from your property. I will fix the damage caused and make preventative measures so they won't return.
With proper wildlife control we can co-exist with our wild neighbors.
* 24 hour services are for emergencies only. Live animal in a living area where safety of the occupants is in question is considered an emergency.
Tierra Verde news:
American Bald Eagles Nesting at Tierra Verde & St Petersburg Florida

Bald eagles nesting in crowded Pinellas County
Some areas have not seen eagles in decades
by CYNTHIA SMOOT
FOX 13 NEWS
TIERRA VERDE – The American bald eagle, once close to extinction, is making a remarkable comeback in one of the Bay Area's most densely populated counties.
It is nesting season for the beloved birds, and those who watch them in Pinellas County say they are finding space where they can in the crowded urban landscape.
For the first time since anyone can remember, there's an eagle nest on Tierra Verde, just across a small pond along the busy Pinellas Bayway. Locals who stop by, such as Jimmy Malandro, marvel at how the eagle pair are putting up with heavy foot, bike and vehicle traffic just yards away.
"We have, as you well see, cars driving by at 50 miles an hour. And still having the birds nest here is a real treat," he said.
Larry Free of Tierra Verde bikes by the nest every morning.
"We feel really fortunate to be able to enjoy something like this out here, five minutes away from the house," he said.
The Tierra Verde nest is one of 25 active nests in Pinellas this year, five of which are new. That's very encouraging to Audubon Eagle Watch volunteers like Barbara Walker of Palm Harbor.
"There's a new nest on Honeymoon Island, and there hasn't been a nest on Honeymoon Island in 40 years, so we have a couple of new tourist attractions to add to our county and be really proud of," Walker said.
Walker is monitoring a nest in East Lake that's high atop a transmission tower in the Progress Energy corridor.
"Eagles need a lot of space, so they're taking space where they can find it," she says. Increasingly, that's on man-made structures such as cell phone towers and power poles, which can be risky for eagle pairs and their offspring.
"The power lines are worrisome, because we fear that one of the eagles, particularly a young eagle, could run into a power line and be injured or killed," Walker explained.
Walker says people are fascinated by eagles, possibly because we came so close to losing them, but also because they're part of our national pride.
"They're our national bird...they really stand for our strength and our freedom and people love that," she said.