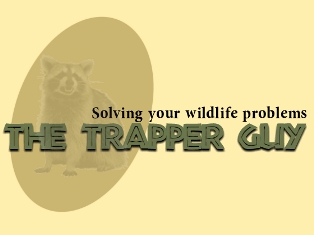 Call now to solve your nuisance wildlife problem!
727-710-0373
Serving Tarpon Springs, FL with humane critter removal 24 hrs a day* and 7 days a week !
Click here for a free service call! *
It wasn't long ago that Tarpon Springs was mostly forested and rural.
Many of our wild friends either get pushed out or become 'urbanized'.
Peoples attics seem like a cozy nesting place. Trash cans and pet food are easy meals and swimming pools are convenient toilets and bathing spots.
As harmless as their intentions may be, some wildlife can be extremely destructive to your property.
The Trapper Guy will come out and humanely remove the live animal from your property and if possible, relocate it. I will fix the damage caused and make preventative measures so they won't return.
With proper wildlife control we can co-exist with our wild neighbors.
* 24 hour services are for emergencies only. Live animal in a living area where safety of the occupants is in question is considered an emergency.
Tarpon Springs , FL wildlife news
Officials search for hero in raccoon attack
A man is wanted for rabies treatment after he helps a woman being attacked by a possibly rabid raccoon.

By AMY WIMMER, Times Staff Writer
© St. Petersburg Times
published August 11, 2002
TARPON SPRINGS -- Health officials are looking for a man who helped a woman fend off an attack by a possibly rabid raccoon Thursday to make sure he is treated for the potentially fatal disease.
Although it is unknown if raccoon was rabid when it attacked the woman and her dog between noon and 1 p.m. Thursday at Anderson Park in Palm Harbor, treatment is recommended.
"There's a certain period of time after somebody has potentially been exposed to a rabid animal where they need prophylaxis for rabies," said Dr. Julia Gill, an epidemiologist with the health department. "This is kind of unusual where we can't find the person.
"Apparently nobody took this guy's name, and we don't even have a description; so we're trying to move on this and trying to do what we can to make sure that he's received medical attention," Gill said. The woman did not want to be identified, Gill said.
The rabies virus is transmitted through saliva and infects the brain, causing changes in behavior. It can infect all mammals and is almost always fatal if left untreated.
The woman was walking her dog along the boardwalk at Anderson Park in when the raccoon attacked the dog and bit the woman.
"It was a rather vicious attack," Gill said. "It was bloody."
The woman was on the ground, fighting off the raccoon, when a man approached and "wrestled with the raccoon and saved them and pulled the raccoon off the woman and the dog," Gill said.
The raccoon got away and apparently so did the man. After emergency personnel arrived to help the woman, she looked around to thank the man and realized he wasn't there. A witness said the man got into his car with his family and left, Gill said.
County officials announced this week plans to spread bait that contains rabies vaccine and trap raccoons that might be carriers. Raccoons are the primary land-based carriers of rabies in Florida, but any warm-blooded animal can contract rabies from a raccoon.
The county's decision comes after two people were bitten by rabid raccoons this summer.
Anyone with information about the man's identity should call the Pinellas County Health Department at 824-6900.