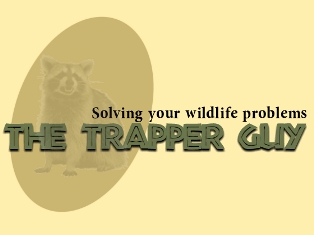 Call now to solve your nuisance wildlife problem!
727-710-0373
Serving Sun City Center, FL with humane critter removal 24 hrs a day* and 7 days a week !
Click here for a free service call! *
It wasn't long ago that Sun City Center was mostly forested and rural.
Many of our wild friends either get pushed out or become 'urbanized'.
Peoples attics seem like a cozy nesting place. Trash cans and pet food are easy meals and swimming pools are convenient toilets and bathing spots.
As harmless as their intentions may be, some wildlife can be extremely destructive to your property.
The Trapper Guy will come out and humanely remove the live animal from your property and if possible, relocate it. I will fix the damage caused and make preventative measures so they won't return.
With proper wildlife control we can co-exist with our wild neighbors.
* 24 hour services are for emergencies only. Live animal in a living area where safety of the occupants is in question is considered an emergency.
Sun City Center News
Sales up, prices down at Sun City Center
By Saundra Amrhein, Times staff writer

Published Saturday, June 28, 2008 3:06 PM
---
SUN CITY CENTER — When Heidi and Harry Oelgart went online and saw real estate prices dipping in this vast retirement community, they hopped on a plane to Tampa. An agent showed the New Jersey couple a three-bedroom, lakefront home in the ritzy Renaissance section.
The garage was big enough to hold their two cars and Harry's hot rod.
"My husband saw the garage and said, 'Let's make an offer,' " Heidi Oelgart said.
They did: $345,000 on a 2-year-old house that once listed at $458,000. The couple had made three previous offers on places in Sun City Center, but they never got a call back.
At 7 that night, the doorbell rang where they were staying. It was their agent, with a smile on her face and a bottle of champagne in her hands.
"You got the house," Heidi Oelgart remembers her saying.
Similar scenarios have been repeating here so often in the past six months that agents are — dare they say it — optimistic about what they call a bright spot in an otherwise dreary real estate landscape.
Thanks to plummeting prices — some condos go for as low as $37,000 — desperate sellers and buyers with money to spend, Sun City Center's sales are on the rise.
The evidence: an almost 20-percent drop in inventory since November and an increase in sales to an average of 41 homes a month for 2008 through mid-June, said Craig Beggins, president of Century 21 Beggins Enterprises.
The housing supply is down to one year, compared to two years in Tampa and other parts of Hillsborough and almost three years in some parts of Pinellas. Agents consider a nine-month supply to be healthy.
"Sun City Center is showing more improvement than any other area we serve" in the Tampa Bay market, Beggins said. "It's still not good, but it's better than anywhere else."
• • •
Sun City Center stretches north and south from a lush, palm tree-lined stretch of State Road 674. Residents regularly cross the highway on golf carts at three marked crossings to do their grocery shopping, hit the fitness center or take part in one of 200 clubs, from synchronized swimming to lawn bowling.
About 20,000 people now live here, a number that includes the Kings Point condominiums. The community's winding side streets front lakes and golf courses, featuring everything from two-bedroom houses built in the 1960s to sprawling, new houses with driveway pavers and arched doorways.
Part of what's fueling sales are major price reductions in Sun City Center combined with willing and patient retired buyers, says Debrah Hailey, the manager of Beggins' Century 21 office in the community.
Also, unlike younger buyers, many retirees have substantial savings, good credit and retirement investments to help them afford two mortgages, one up North and one in Sun City Center, said Lynn Mooney, broker at SouthShore Homes & Property.
Others rented in the 55-and-older community during the real estate boom and now want to buy while prices are down.
"Now they are willing to go ahead and say, 'This makes sense,' instead of coming down a few months and paying $2,000 a month in rent," she said.
Janet Johnson and her husband have visited friends in Sun City Center for years. The Maryland couple was attracted to the community's clubs and activities. About a year ago, the retired business owners sought a place of their own with plans to keep the Maryland house.
"I wasn't going to just buy anything," Janet Johnson, 72, said. When she found something she liked, the price was perfect.
In early June, she signed a $130,000 contract for a 1,500-square-foot house with two master bedrooms, a two-car garage and a lanai. The house had once listed for $200,000.
"(The price) is what made me decide," she said. "I'm afraid they are going to start going up again."
While the jump in sales and drop in inventory make real estate agents happy, others are skeptical.
Tim Wilmath, director of valuation for the Hillsborough County Property Appraiser's Office, says he won't get excited until prices rebound, which he doesn't expect to happen for a long time.
"For us, it's all about the price," Wilmath said.
The median price per square foot on a single-family home in Sun City Center fell from a high of $171.32 in mid 2006 to $98.03 two weeks ago, according to Wilmath.
"When I see a slight upward tick (in sales) ... I don't give that a lot of weight," he said. "There has been more inventory in Hills­borough now than there's ever been. Until we get rid of that, we're going to continue to see a downward trend."
That's not what sellers want to hear.
Many in Sun City have dropped their prices and accepted offers sometimes $25,000 less than an offer they rejected six months ago, real estate agents say. That's because they realize values aren't going up anytime soon.
Some retired residents who bought inflated homes with cash several years ago are now selling at a loss but turning around and buying a newer home at a great deal, Realtors said.
But a lot of sellers in the community find themselves in David Holmes' predicament. Holmes is 51, from Alabama, and not actually the seller. His father is. His father's condo had been on the market for about 18 months, during which time his father moved to an independent living apartment and later to Holmes' home due to an illness.
The condo started on the market at $240,000, then dropped to $199,000, Holmes said. When Holmes assumed power of attorney in February, he changed Realtors, made repairs and took his agent's advice to stage the home with some decorations. And he lowered the asking price to $189,000.
Six weeks later, he got a bite: $168,000.
"Given the state of the market, we jumped on that offer," he said. The alternative was to hold out indefinitely while paying more than $10,000 a year in taxes, insurance, association fees and utilities on an empty condo.
Considering that his father bought the condo five years ago at around $150,000, Holmes thinks the family broke even.
"We were very happy just to get out of all the expenses going into an empty piece of property."
Saundra Amrhein can be reached at amrhein@sptimes.com or (813) 661-2441.