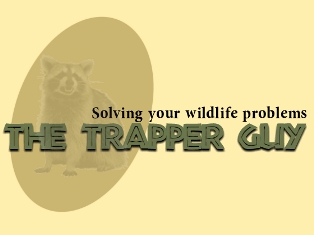 Call now to solve your nuisance wildlife problem!
727-710-0373
Serving St Petersburg with humane critter removal 24 hrs a day* and 7 days a week !
Click here for a free service call! *
It wasn't long ago that St Petersburg was mostly forested and rural.
Many of our wild friends either get pushed out or become 'urbanized'.
Peoples attics seem like a cozy nesting place. Trash cans and pet food are easy meals and swimming pools are convenient toilets and bathing spots.
As harmless as their intentions may be, some wildlife can be extremely destructive to your property.
The Trapper Guy will come out and humanely remove the live animal from your property and if possible, relocate it. I will fix the damage caused and make preventative measures so they won't return.
With proper wildlife control we can co-exist with our wild neighbors.
* 24 hour services are for emergencies only. Live animal in a living area where safety of the occupants is in question is considered an emergency.
St Petersburg wildlife news
'A raccoon took my homework'
The teacher was skeptical of 13-year-old Stephanie King's fanciful excuse, but it was true. Honest.
By RITA FARLOW
Published September 8, 2006

ST PETERSBURG— Brenda Dannewitz has heard a lot of excuses about missing homework during her 22 years as a chorus teacher at Osceola Middle School.
I've heard 'My dog's eaten my music,' 'my little brother ripped my music because he's mad at me,' 'It's in dad's car and I'm at mom's,'...'' said Dannewitz.
But the story 13-year-old Stephanie King told Thursday beat them all:
"I explained that the raccoon fell from the ceiling in my bathroom and it ran into my bedroom...and animal control came out to get it and they couldn't catch it and they said we couldn't go in my room," Stephanie said.
Dannewitz was skeptical. But the best part of the story is it's true.
On Friday, Stephanie's grandmother and legal guardian, Natalie King, talked to school officials about the missing homework.
"I told them she can't get her homework, her books, because everything is locked in the bedroom," King said.
The large female raccoon and its babies crashed to the Kings' bathroom floor Wednesday night. The raccoons had taken up residence in the ceiling, which was compromised by a leaky roof, said Stephanie's grandfather, Lloyd King.
Until that moment, the family didn't even know there was a leak, much less that a family of raccoons was living in their ceiling. The mama raccoon tussled with the King's 2-year-old Yorkie Poo, Miss Molly, before scurrying straight into Stephanie's room.
The family found three baby raccoons on the bathroom floor. Mrs. King called 911 and an officer from St Petersburg Animal Services responded. He took the babies and tried to capture the mother, Natalie King said.
"Animal control spent an hour and a half trying to get it. I mean, it was just working him to death," Mrs. King said.
The officer set a trap and told the family not to enter Stephanie's room. But later she found another baby raccoon hiding behind the toilet.
"I opened the bedroom door and put it in with the mommy," she said.
Thursday night, mama raccoon finally went into the trap. An animal services officer picked her up Friday. He found the baby under the bed.
As a precaution, Miss Molly got a rabies booster and is under quarantine until results tests come back.

The family will clean up Stephanie's room this weekend.
"We have to empty the room out, wash all the clothes and strip the carpet," she said. A roofer was on the way over Friday to assess the leak.
Stephanie expects to be back at school on Monday — with her homework. The seventh-grader said she understood her teacher's raised eyebrows.
"I kind of thought it would be hard to believe, too."