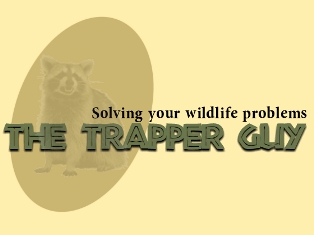 Call now to solve your nuisance wildlife problem!
727-710-0373
Serving Madeira Beach, FL with humane critter removal 24 hrs a day* and 7 days a week !
Click here for a free service call! *
It wasn't long ago that Madeira beach was covered in sea oats and pine trees.
Many of our wild friends either get pushed out or become 'urbanized'.
Peoples attics seem like a cozy nesting place. Trash cans and pet food are easy meals and swimming pools are convenient toilets and bathing spots.
As harmless as their intentions may be, some wildlife can be extremely destructive to your property.
The Trapper Guy will come out and humanely remove the live animal from your property and if possible, relocate it. I will fix the damage caused and make preventative measures so they won't return.
With proper wildlife control we can co-exist with our wild neighbors.
* 24 hour services are for emergencies only. Live animal in a living area where safety of the occupants is in question is considered an emergency.
Mad Beach Wildlife News
Dead fish are from blast, not Red Tide
City officials say an underwater construction explosion caused the deaths of a few snook.
By LINDSAY MICHEL
Published August 16, 2006
-----------------------------------------------
MADEIRA BEACH - Beachgoers who recently noticed dead fish washed up near John's Pass need not worry that Red Tide is here.
Construction at the John's Pass bridge that required an underwater blast Aug. 3 is the likely culprit, according to city and wildlife preservation officials.
"It's not from Red Tide," said Mike Maxemow, community service director for the city of Madeira Beach.
The underwater blasts, which took down the bridge's south bascule, were delivered by Flatiron Constructors Inc., and were monitored by various wildlife conservation workers. Another blast is planned for Aug. 24.
Construction companies consult many wildlife agencies before they go forth with the blasts, said Bruce Hasbrouk, vice president and environmental services director of Faller, Davis & Associates Inc.
Hasbrouk, who is also a marine biologist and an environmental consultant for the Department of Transportation, has worked on blasting projects for 25 years and said he has never experienced any serious wildlife damage after a construction explosion.
"We have a lot of agencies we have to coordinate with prior to any underwater explosions, and they review our plan and provide comments," he said.
Officials from the Fish and Wildlife Conservation Commission, who are conducting research on grouper, snapper and snook collected 23 dead snook and two injured snook after the blast, Hasbrouk said.
"So a lot of the fish did go to research," he said. "Fortunately it was just those fish and not the protected species."
When there is underwater blasting, officials observing from helicopters and bridges ensure that no protected species like manatees, sea turtles or porpoises are in the danger zone, which was a 2,000-foot radius, on Aug. 3.
Before and after the blast, officials walked for an hour along the beaches to see that no harm would be done to the animals. However, the sound of the explosion can sometimes kill smaller fish, which is what "could have caused a fish kill like that," said Dana Hooker, chief operating officer at the Clearwater Marine Aquarium.
The same precautions will be used on Aug. 24 when the last part of the underwater bascule will be demolished, Hasbrouk said.
So far this year, the Fish and Wildlife Research Institute has found high concentrations of Red Tide from Lido Key in Sarasota County to the Naples Pier in Collier County.
Lindsay Michel can be reached at lmichel@sptimes.com or at 727 893-8333.