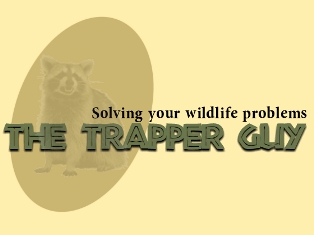 Call now to solve your nuisance wildlife problem!
727-710-0373
Serving Lutz, FL with humane critter removal 24 hrs a day* and 7 days a week !
Click here for a free service call! *
It wasn't long ago that Lutz was mostly forested and rural.
Many of our wild friends either get pushed out or become 'urbanized'.
Peoples attics seem like a cozy nesting place. Trash cans and pet food are easy meals and swimming pools are convenient toilets and bathing spots.
As harmless as their intentions may be, some wildlife can be extremely destructive to your property.
The Trapper Guy will come out and humanely remove the live animal from your property. I will fix the damage caused and make preventative measures so they won't return.
With proper wildlife control we can co-exist with our wild neighbors.
* 24 hour services are for emergencies only. Live animal in a living area where safety of the occupants is in question is considered an emergency.
Lutz, FL news
Limits proposed on homes per acre in semirural area of Lutz

By Richard Danielson, Times Staff Writer
In Print: Friday, March 6, 2009
LUTZ — Part of Lutz near New Tampa should get new safeguards to preserve its semirural character, county planners say.
But those protections won't come in the form planners discussed with residents last month.
Instead, the Hillsborough County City-County Planning Commission proposes to limit new subdivisions in an area south of Interstate 275 and north of Curry Road to no more than two homes per acre, according to a proposed amendment to the county's comprehensive land use plan.
That means new subdivisions would have to follow the pattern established by four small subdivisions previously developed inside the area: Fichenwalk Country Home Sites, Curry Cove, Livingston Oaks and Sutton Estates.
"It'll accomplish what we want," said Denise Layne, past president of the Lutz Civic Association.
Previously, the planning commission had floated the idea of removing the area from the county's urban service area.
Hillsborough officials created the urban service area in 1993. The idea is to direct most of the county's growth into that area, keeping growth compact and minimizing the public costs of extending utilities and services to new developments.
In the late 1990s, the civic leaders in Lutz worked with the county to write a community plan that called for a "semirural community character" east of N Dale Mabry Highway. (West of Dale Mabry, the plan foresaw a pattern of planned residential communities.)
Despite the plan, the area north of Curry Road ended up in the urban service area.
Being in the urban service area gives developers the chance to build subdivisions with more houses on smaller lots.
But those homes have to be served by public water and sewer lines. In contrast, rural homes on lots of at least half an acre can be on wells and septic tanks.
The civic association learned of the area's status after a landowner submitted and then withdrew a rezoning request for a more densely developed subdivision in 2007.
In response, the civic association asked the county to consider removing that piece of Lutz from the urban service area.
Planners decided against that for a variety of reasons, planning commission team leader Stephen Griffin said last week.
For one thing, planners don't want to set a precedent of making such changes until they establish a process for considering them, Griffin said.
Also, he said Lutz residents seemed most concerned about the character of the area and the density of development, not whether new homes were on public water and sewer.
Adding the proposed rule should result in new development "people can live with," he said.
Finally, it would make sense to address the issue through a change to the Lutz Community Plan, but there's no process in place to do that, Griffin said. So for now planners propose the change to the comprehensive plan's future land use element.
Layne said she agrees there needs to be a process to update community plans, which outline a more detailed vision for their communities than the county's comprehensive plan does.
But she advocates that whatever process is created should only allow community plans to be changed every five to seven years. And she said the changes should have to be approved by a super majority of the County Commission and be reviewed by a steering committee of residents, educators and business people, including those involved in development, building and real estate sales.
"The bottom line is we want those people at the table," Layne said. "We want the large landowners, the small ones, too, at the table. It's their community, too."
Public hearings on the proposed land use change are expected this summer, with adoption in late fall.
Richard Danielson can be reached at Danielson@sptimes.com or (813) 269-5311.