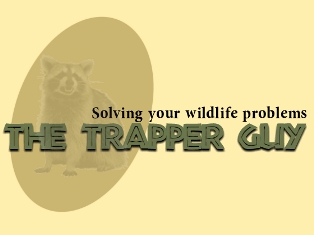 Call now to solve your nuisance wildlife problem!
727-710-0373
Serving Apollo Beach, FL with humane critter removal 24 hrs a day* and 7 days a week !
Click here for a free service call! *
It wasn't long ago that Apollo Beach was mostly forested and rural.
The close location to the top of Tampa Bay is an ideal place for many species of wildlife.
Peoples attics seem like a cozy nesting place. Trash cans and pet food are easy meals and swimming pools are convenient toilets and bathing spots. Bats love getting under tile roofs.
As harmless as their intentions may be, some wildlife can be extremely destructive to your property.
The Trapper Guy will come out and humanely remove the live animal from your property and if possible, relocate it. I will fix the damage caused and make preventative measures so they won't return.
With proper wildlife control we can co-exist with our wild neighbors.
* 24 hour services are for emergencies only. Live animal in a living area where safety of the occupants is in question is considered an emergency.
Apollo Beach , FL news
Apollo Beach Desalination Plant Finally Up and Running
02/15/10 Concetta DeLuco
WMNF Evening News


The Apollo Beach Desalination plant has finally passed some important hurdles. This morning the Tampa Bay Water board received updates on several of its other alternative water supply projects including the C.W. Bill Young reservoir.

The desalination plant was designed to generate 25 million gallons of water per day. Today, the plant is able to meet final requirements and hopes to receive $21 million plus $10 million in interest from the Southwest Florida Water Management District (SWFWMD). SWFWMD agreed to pay $85 million to help cover some of the initial capital costs which would be paid out in increments. Tampa Bay Water board member, Karl Nurse, said the utility is happy with the plants significant progress.

Since it opened in 2003, the desalination plant has produced more than 85 billion gallons of fresh water. However the facility has not been without setbacks. Costing more than $150 million and built $40 million over budget, the plant was closed shortly after opening due to costly repairs. It was not re-opened until early 2008. Since then, Tampa Bay Water's Operations and Facility Director Chuck Carden said the plant has been working to meet the four performance milestones set forth by Swiftmud. The benchmarks need to be completed by December 2010 to receive all of the $85 million.

Another alternative water source, the C.W. Bill Young reservoir, is the largest reservoir in Florida. Since it opened in 2005, cracks appeared on the surface of the $140 million facility. Repairs are expected to cost around $125 million. Tampa Bay Water Engineer and Project Manager, John Kennedy, said one of the first steps is getting financing. Kennedy's plan involves a private contractor supplying funding up front. Tampa City Councilman, Charlie Miranda interrupted Kennedy and wanted to clarify that utility consumers would not be responsible for the funds.

Miranda argued that under Kennedy's financing proposal, even though the contractors would be fronting the finances for the project, it does not guarantee the reservoir repair project will be completed.

In 1998, the region pumped 192 million gallons a day from underground. The state legislature created Tampa Bay Water to find alternative sources. And SWFWMD ordered the utility to cut its pumping to below 90 million gallons per day by December 2008, which it did. The utility board also voted today to send an application to SWFWMD to renew a 10 year permit. It would allow the continued pumping of 90 million gallons per day from 11 well fields in Tampa Bay region. The current permit expires in December 2010.

Yet, even with the reduced well field pumping as set forth in the application, Charlie Miranda opposed the motion to pass the application. Anticipating the reservoir being closed for repairs in a few years, he said he wanted a study to be conducted to make sure the Hillsborough River, a main source of water supply for the region, would not be drained.

Finally, Miranda advocated the building of a new water treatment plant that would turn waste water into drinking water.

A workshop to encourage what some call the "toilet to tap issue" on the 2010 ballot will be held on February 25. The next Tampa Bay Water meeting to further address the reservoir's repairs will be held on April 19.