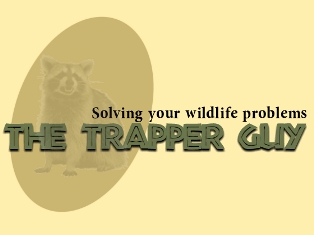 727-710-0373
Serving Pinellas county with humane critter removal 24 hrs a day and 7 days a week!
Click here for a free service call! *
The Pinellas County area is a rapidly growing area. It wasn't long ago that it was mostly forested and rural.
Many of our wild friends either get pushed out or become 'urbanized'.
Peoples attics seem like a cozy nesting place. Trash cans and pet food are easy meals and swimming pools are convenient toilets and bathing spots.
As harmless as their intentions may be, some wildlife can be extremely destructive to your property.
I will come out and humanely remove the live animal from your property and if possible, relocate it. I will fix the damage caused and make preventative measures so they won't return.
With proper wildlife control we can co-exist with our wild neighbors.
Pinellas wildlife news
Pets missing? Coyotes likely culprits
By Emily Rieman, Times Staff Writer.
Posted: Aug 15, 2008 07:19 PM
Residents along the city's southernmost corridors are concerned about the growing population of coyotes in the neighborhood.
Leiza Fitzgerald, a resident of Bahama Shores, in southeastern St. Petersburg, said there has always been a large population of wildlife in her neighborhood, including owls, snakes and raccoons.
Now there's an increasing number of coyotes in the area, and she and her neighbors are fearful of the possible results.
Greg Andrews, the operational manager for Pinellas County Animal Services, said the agency has received reports of coyote sightings for years.
Before 2007 animal services did have an urban wildlife officer, who provided some ease to those who saw coyotes in their neighborhoods.
"One of the biggest complaints we've had is they've found their cats dead," Andrews says.
Pinellas County has a leash law in effect for both cats and dogs. "Cats will not survive in the wild being let out, even being in this urban area," he said. If a coyote "comes in contact with a cat, they will grab it in an instant," Andrews said.
Meanwhile, lampposts and power poles in Bahama Shores are nearly covered with lost-pet signs. Fitzgerald said that in the wild coyotes feed mainly on vermin, such as mice, rats and opossums, along with fruits.
"There are checks and balances in nature, and if they are not kept in check, they have to find other food sources," Fitzgerald said. "Cats are easy prey, especially old or injured cats," she said.
There is growing fear throughout the area, not only for pets but for residents as well.
Many people take advantage of the gorgeous neighborhood vistas and walk in the early morning for exercise.
After a coyote sighting, and hearing of or experiencing the loss of a pet, a few residents have stopped their predawn walks, and those who choose to continue are taking cautionary measures.
"This morning I was out for my routine walk and passed by some men on their walk. They were carrying 9-irons for protection," Fitzgerald said.
Andrews says animal services has "tried trapping some but it's very hard to trap these coyotes. We try to educate people on how to co-exist."
Though coyotes seem to be ferocious and dangerous, the truth is "people live with critters far more dangerous than coyotes on a daily basis," including alligators, bees, hornets and fire ants, said Martin Main, a University of Florida professor who has studied the movement of coyotes into Florida.
Coyotes are elusive and adaptable animals, which is why they can survive in urban areas, he said.
Main said there are simple actions people can take to avoid interaction with a coyote.
• Don't leave your cat outside, especially after dark.
• If you are taking your dog for a walk, be sure to walk in well-lit areas, don't use expandable leashes and don't walk where coyotes have been seen, he suggested.
• If you do encounter one on a walk with your pet, pick up your pet immediately. Coyotes are much more afraid of humans than we are of them, he said.
• If you still don't feel safe, Main recommended carrying a cane and using it if necessary.
Another source of food in the city for coyotes is garbage. Main said residents should make sure their garbage containers are sealed, and if animals are knocking over trash cans, use a bungee cord to keep them closed.
Management at Westminster Shores, a retirement community, mailed notices to all residents warning them of coyotes in the area.
Main said that living with wildlife is a matter of adjustment.
"There is a moral responsibility for us to not eliminate other life forms, meaning learning to live with them," Main says.
"If you want to live in a world where there is wildlife, then we have to live with wildlife."
Emily Rieman can be contacted at (727) 893-8827 or erieman@sptimes.com.