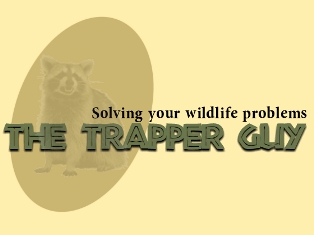 Call now to solve your nuisance wildlife problem!
727-710-0373
Serving Pasco county with humane critter removal 24 hrs a day* and 7 days a week !
Click here for a free service call! *
Pasco county is a rapidly growing area. It wasn't long ago that it was mostly forested and rural.
Many of our wild friends either get pushed out or become 'urbanized'.
Peoples attics seem like a cozy nesting place. Trash cans and pet food are easy meals and swimming pools are convenient toilets and bathing spots.
As harmless as their intentions may be, some wildlife can be extremely destructive to your property.
The Trapper Guy will come out and humanely remove the live animal from your property and if possible, relocate it. I will fix the damage caused and make preventative measures so they won't return.
With proper wildlife control we can co-exist with our wild neighbors.
* 24 hour services are for emergencies only. Live animal in a living area where safety of the occupants is in question is considered an emergency.
Pasco wildlife news
Airborne assault aimed at halting raccoon rabies
Health officials will use planes and helicopters to drop thousands of pellets treated with an antirabies vaccine.
By STEVE THOMPSON
Published February 20, 2004
For two weeks beginning Monday, low-flying planes and helicopters will be bombing Pasco County with little objects that look like Fig Newtons and smell like fish.
Don't be alarmed. It's raccoon bait.
The smelly treats will be dropped as part of an oral rabies vaccine program, funded in part by the U.S. Department of Agriculture, to eliminate raccoon rabies. Half a million baits will be dropped over a more than 2,400-square-mile area that includes much of Pasco, Hillsborough, Hernando, Lake, Sumter and Polk counties.
The baits are composed of 2 milliliters of red liquid vaccine sealed in wax and covered in fish meal.
In urban areas and near schools, the baits will be dispensed by hand from trucks. Some of the baits distributed this way will be small red packets slathered with fish oil.
In some neighborhoods, mosquito control helicopters will drop the baits from about 500 feet. In rural areas, small twin-engine planes will be used.
The baits weigh less than an ounce and shouldn't dent cars. The baits float, so if one lands in your swimming pool, fish it out and throw it away.
If one lands in your back yard, you "should use a piece of paper or something like that, pick it up and throw it back into the brushy area so that the raccoons get it," said Dr. William Kyser, a veterinarian and consultant on the project.
It is not harmful to touch the baits, though they might make your hands smelly or irritate your skin. They shouldn't be handled if you're pregnant or immunosuppressed, wildlife officials say.
The baits are not toxic to pets. Dogs and cats that gulp them might get diarrhea - from the fish meal, not the vaccine.
Raccoons are the most common animal diagnosed with rabies in Pasco, though cases are infrequent, said Dr. Marc Yacht, director of the Pasco County Health Department.
"The reason raccoons are so important is that they like to show up at campsites and kids like to play with them," he said. Also, dogs and cats frequently get into fights with them, he said.
In humans, rabies can be treated if caught early. Otherwise, it can be fatal. But Yacht said he knows of no human cases in Pasco's past.
To keep it that way, he also stressed the importance of vaccination for pets and appropriate livestock.
"When we see a domestic animal that's positive (for rabies)," he said, "that really raises a flag for us."