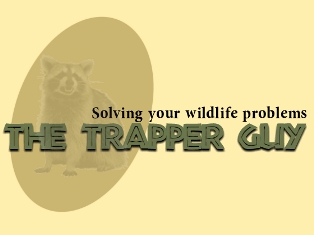 Call now to solve your nuisance wildlife problem!
727-710-0373
Serving Manatee County with humane critter removal 24 hrs a day* and 7 days a week !
Click here for a free service call! *
It wasn't long ago that Manatee County was mostly forested and rural.
Many of our wild friends either get pushed out or become 'urbanized'.
Peoples attics seem like a cozy nesting place. Trash cans and pet food are easy meals and swimming pools are convenient toilets and bathing spots.
As harmless as their intentions may be, some wildlife can be extremely destructive to your property.
The Trapper Guy will come out and humanely remove the live animal from your property. I will fix the damage caused and make preventative measures so they won't return.
With proper wildlife control we can co-exist with our wild neighbors.
* 24 hour services are for emergencies only. Live animal in a living area where safety of the occupants is in question is considered an emergency.
Manatee County , FL news
Lots of snakes, too little serum for dogs

By RICHARD DYMOND - rdymond@bradenton.com

Bella can't help it if she likes to root for rats and snakes.That's what Jack Russell terriers do.
The little dog, who lives with Ken and Judy Scheidt, recently survived a close call when she was bit in the muzzle twice in five days by poisonous pygmy rattle snakes in her Panther Ridge neighborhood.
Due to a shortage of anti-snake bite serum in Manatee County, the Scheidts had to rush Bella to Florida Veterinary Specialists in Tampa.
Bella was released from the hospital a day after the most recent bite and is in fine shape, say the Scheidts. But her ordeal highlights a local problem.
"The major problem is not the number of snakes in Panther Ridge, which seems to be a lot lately, but the lack of an anti-serum for dogs," Ken Scheidt said.
There is indeed a national shortage of snake serum for dogs, said Dr. Robert Rill of University Animal Clinic in Cooper Creek, near Interstate 75 and University Parkway, where the Scheidts take Bella.
"The serum has been on back-order a year," Rill said Friday. "Fort Dodge Laboratories made the antivenin. The problem is that it is not available now. And there's not a competitive product on the market."
Dr. Neil Shaw, medical director for Florida Veterinary Specialists, which still has some serum in stock, said the most recent batch of antivenin produced by Fort Dodge Laboratories failed to get Food and Drug Administration approval.
"Something was wrong with the batch," Shaw said. "There is a new batch in production."
The shortage should be over in a few months, but Rill advises anyone in Manatee County with a dog that likes to hunt to have their pet vaccinated against a snake bite, which is not as good a remedy as snake serum, but the next best thing.
Red Rock Biologicals makes a rattlesnake vaccine, Rill said.
"Right now, there are no other options," Rill said.
Manatee and Sarasota counties are home to four of the state's six poisonous snakes, said Gary Morse, a spokesman for the Florida Fish and Wildlife Conservation Commission.
Pygmy, diamondback, water moccasins and coral snakes are the four varieties in Manatee County.
The other two are copperheads and cane break rattlers, which are found north of Gainesville and in the Panhandle respectively, Morse said.
As for the abundance of snakes in Panther Ridge right now, Morse has an explanation.
"What happens is, in the summer, when it rains, the water level comes up and snakes are forced out of their normal areas and are looking for drier territory," Morse said. "You will see all sorts of critters, including snakes, show up trying to get out of the water."
Richard Dymond, Herald reporter, can be reached at 708-7917.
Lots of snakes, too little serum for dogs