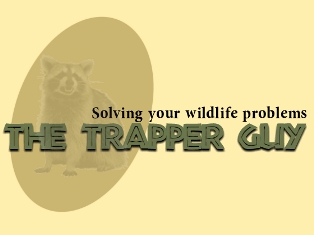 Call now to solve your nuisance wildlife problem!
727-710-0373
Serving Bradenton, FL with humane critter removal 24 hrs a day* and 7 days a week !
Click here for a free service call! *
It wasn't long ago that Bradenton was covered in sea oats and pine trees.
Many of our wild friends either get pushed out or become 'urbanized'.
Your property is an ideal habitat. Trash cans and pet food are easy meals and swimming pools are convenient toilets and bathing spots.
As harmless as their intentions may be, some wildlife can be extremely destructive to your property.
The Trapper Guy will come out and humanely remove the live animal from your property and if possible, relocate it. I will fix the damage caused and make preventative measures so they won't return.
With proper wildlife control we can co-exist with our wild neighbors.
* 24 hour services are for emergencies only. Live animal in a living area where safety of the occupants is in question is considered an emergency.
Bradenton Wildlife News
Bats everywhere; Bradenton man's apartment is crawling with the nocturnal creatures
COPYRIGHT 2002 Sarasota Herald-Tribune
Byline: TIMOTHY O'HARA tim.ohara@heraldtribune.com

BRADENTON -- Shortly after dark, Grant Griffin comes home to his one-bedroom apartment, tired after a long day as a counselor at Hope Family Services. He wants to unwind, but he knows that unwanted guests will probably be there to greet him when he walks in his door.

As if that were not bad enough, he knows they'll be up all night making noise and fouling his place with the stink they've picked up from hanging out by the trash chute all day.

There's not much he can do. County health officials say they can stay until August and the landlord can't evict them.

A colony of bats has taken over Griffin's Belmont Park apartment. Since June 9, he has found them in his shower, in his sink, in his bed sheets.

"I'm freaked out. I'm about as freaked out as I can get," said Griffin, 49. "I feel like there are...
Nearly 13-foot python caught in Bradenton
---
Bradenton (Bay News 9) -- For the past few weeks, a nearly 13-foot python has called the woods off State Road 64 in Bradenton its home.
That's alarming those who live and work nearby.
"I'm glad it wasn't out in the greenhouse and some unsuspecting customer ran into it," said Ann Miller, in customer service with MRT Farm and Garden.
Miller spotted the snake late Monday afternoon. The python was found in a Culvert coiled up and ready to strike.
Justin Matthews, from Matthews Wildlife Rescue, captured the snake.
"The snake was very strikey while he was in the tunnel," Matthews said. "By the time I ran him out I was able to grab him by the head very quickly and get a hold of him."
Matthews said he's been receiving calls from concerned residents who spotted it the past few weeks. He said he wasn't able to catch it until it slithered across the road and stopped to rest.
Matthews said the female snake, which is native to Asia, is about three-and-a-half-years-old and was someone's pet. He said it either got away from its owner or they just let it go.
"They can introduce disease to the wild, not too mention what a 20-foot-long-plus python could do to a young child or a grown man," Matthews said.
Exactly why Matthews said the snakes do not make good pets. Pythons are not venomous, but Matthews said they bite and constrict and are capable of swallowing anything from small children to cats and dogs.
"If it were to bite you and start constricting, if you were alone you would have a very hard time getting it off of you," Matthews said.
Matthews plans on placing the python with nearly a dozen other rescued animals he owns. All are used to educate the community about why it's not a good idea to own such exotic animals.
The longest reticulated python ever reported was 33 feet. Besides being dangerous, owning pythons is illegal in Florida unless you have a permit, which costs $100 a year.